Project Overview
PRPL partnered with LEGO and XD Agency to create an augmented reality experience within the Warner Bros.' Magic at Play attraction where LEGO fans and wannabe witches and wizards alike could make all their storybook dreams come true as LEGO Harry Potter™ Minifigures.
Work
43% Gryffindor

21% Ravenclaw

18% Slytherin

18% Hufflepuff
0
Visitors and counting have interacted with the experience

Magic in the Making
November 11th, 2022, marked the first day of Magic at Play. This new interactive experience welcomed Harry Potter™ fans to a 30,000-square-foot enchanted attraction at the Water Tower Place in Chicago. At this six-month-long attraction, visitors get to explore the wizarding world of Harry Potter™ with installations that showcase everything from 4 Privet Drive to the Great Hall. 
PRPL partnered with LEGO and XD Agency to create an augmented reality experience within the attraction where users can stand in front of a magical mirror and move and cast spells as LEGO Harry Potter™ Minifigures.

Reimagining What's Possible
LEGO's primary goal is always to create memorable and meaningful experiences for users; in this case, it meant immersing visitors in the world of Harry Potter™ as LEGO characters. But because technology like this hadn't been built before, this was easier dreamt than done. 
From backend development to immersive experiential technology, our team brainstormed how we could combine all of the desired aspects of the client's vision to make the impossible possible.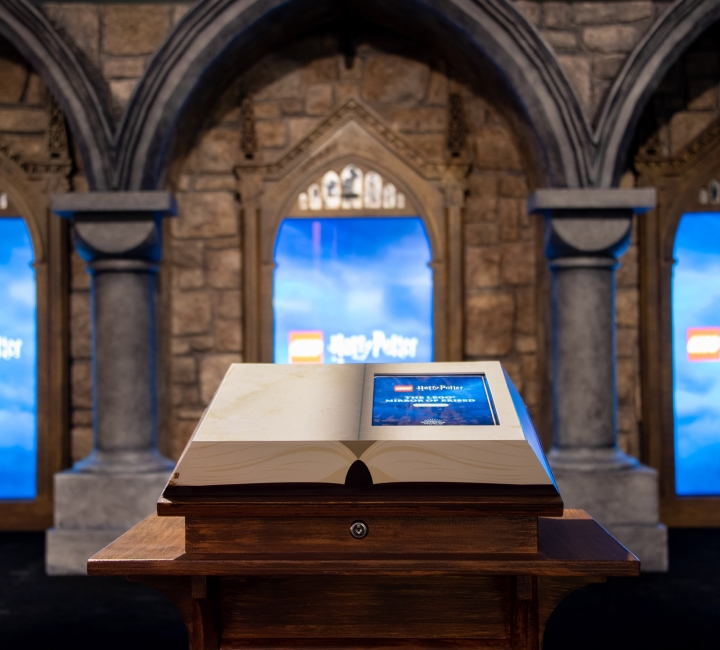 Hardware
The entire experience was displayed on a 65" screen encapsulated in a beautifully designed faux stone wall. We used Intel® RealSense™ Depth Cameras to pick up movement and a Rode NTG5 Shotgun mic to capture sound. 

All minifigure customizations and selections were made on an iPad designed to resemble a Harry Potter™-style book. By working closely with the LEGO & Harry Potter™ teams, we were able to mask the technology needed to create a more ancient setting and feel.
Character Creation
Our experience started with house selection because how else do you begin an authentic Harry Potter™ experience? Then, our Character Builder tool gave users full control of their reflection and experience starting with their chosen skin tone and hairstyle and down to their preferred wands and accessories. And we didn't stop there. We designed an interactive mirror to include some of the most iconic Harry Potter scenes, including Hogsmeade™, the Chamber, the infamous Library, and the Potions and Transfiguration Classrooms. After users selected and confirmed their options, the character gets magically transported to the Mirror of Erised to start their spellbinding journey.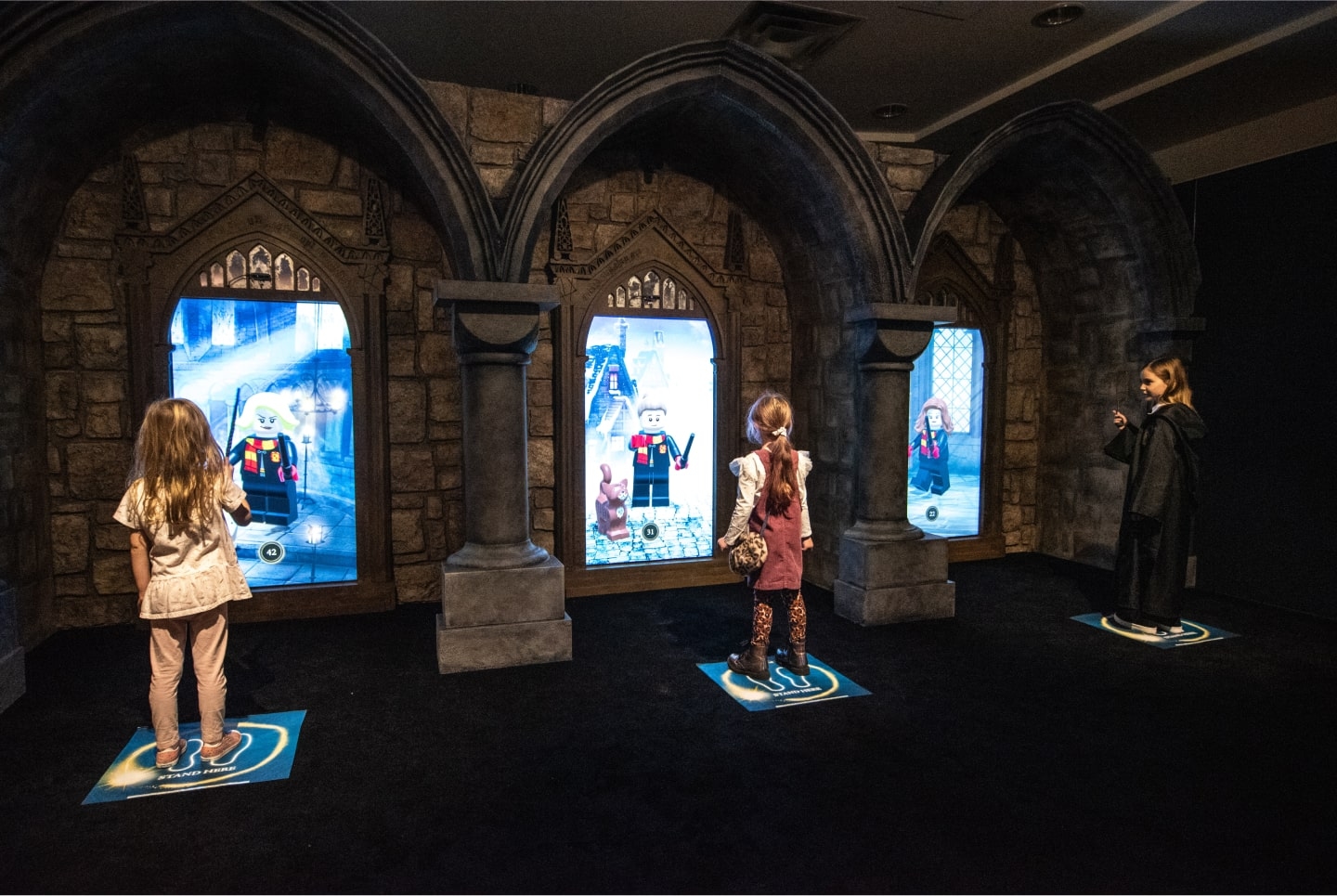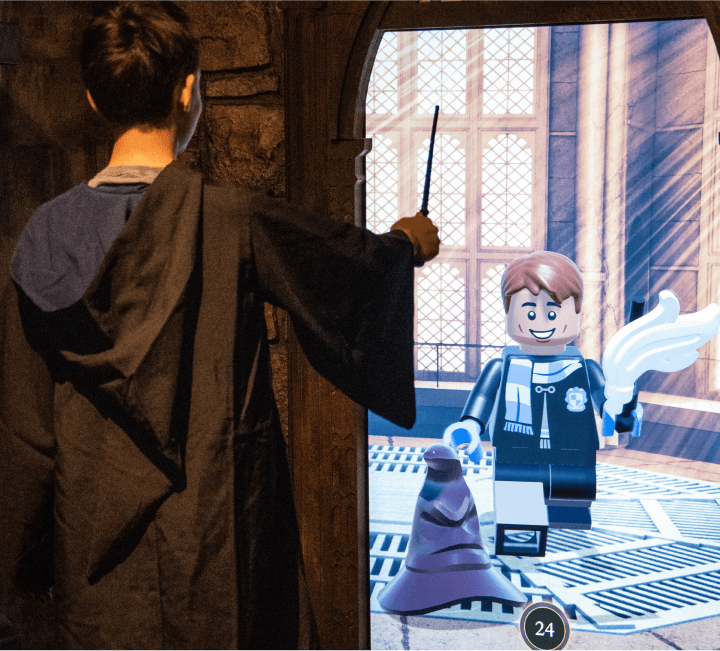 Body Mapping
To create the LEGO minifigure movement and environment, we used Unity, a cross-platform game engine that is used to build real-time 3D projects. 

To have the user's LEGO minifigure move in sync with the user, we did extensive research to find options for body sensors and implemented three to capture the movements: One camera sensor that measured RGB for the main view and two infrared cameras to develop a depth map of the subject. We completed the body mapping with a machine learning AI trained in body movement that was used to interpret the different motions users would make in real-time while interacting with the mirror.
Voice Technology
Triggering spells in the Unity app required using voice-to-text technology in a unique way. When the microphone picked up a certain spell, it prompted an animation in the Unity App. 

In order to account for the array of different accents, voice pitches, and more that the program would encounter, we created an audio processing step that equalized all voices before the computer received the audio. This ensured that a variety of different voices could activate a spell in the system.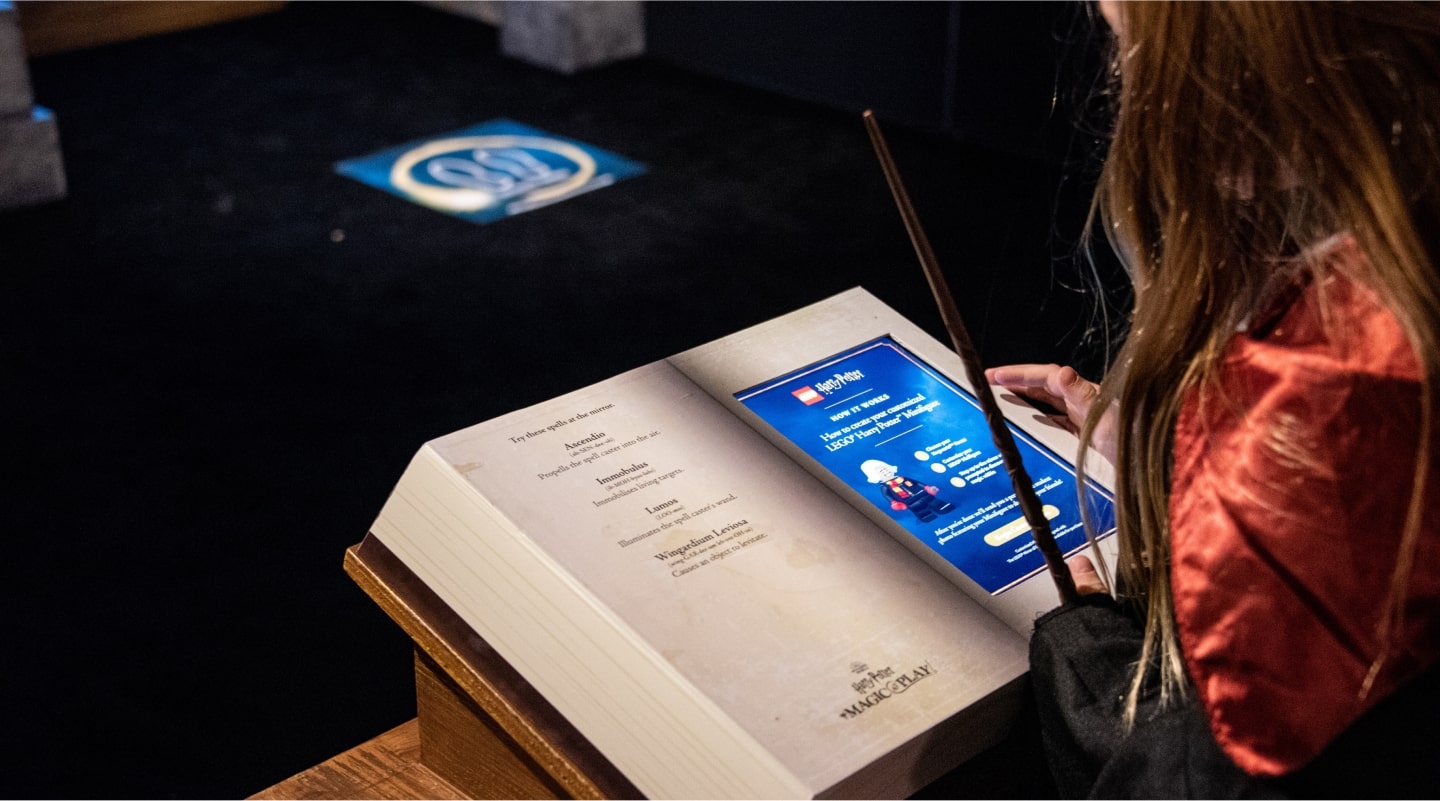 Inclusivity
For LEGO, XD, and PRPL, inclusivity was a must. We included a wide range of skin tones and hairstyles for users to select from and randomized the starting minifigure every time there was a new user to avoid showcasing a "standard" minifigure. 

And because this experience was centered around movement, it was important for us that those with disabilities could also participate, so we created a calculation in the backend that measured the distance between the hips and the knees to better determine if someone was sitting in a wheelchair versus standing so that we could tailor their experience.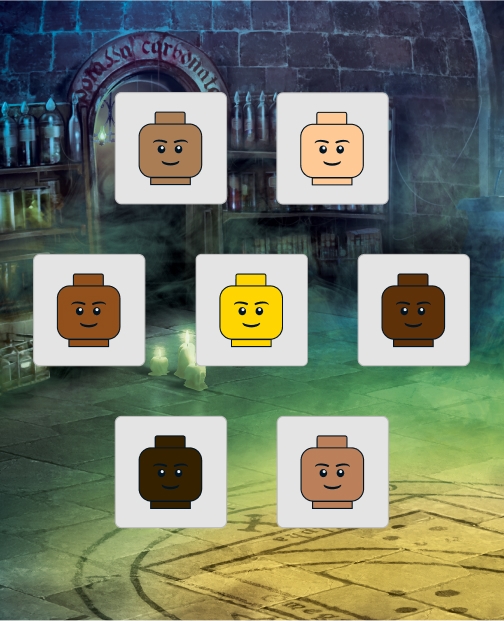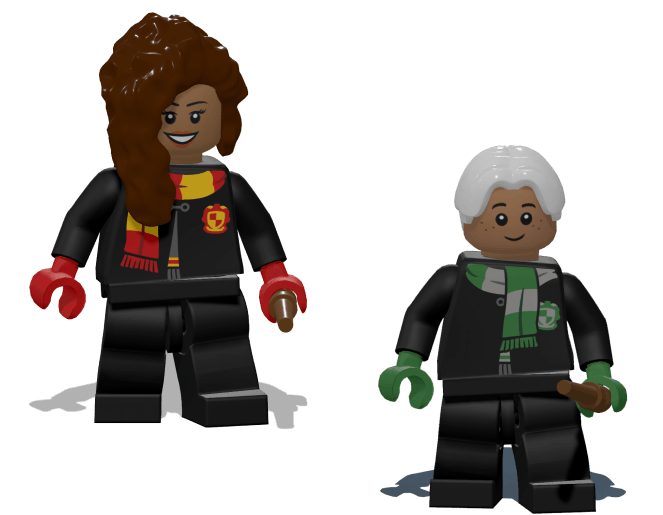 Endless Exploration
In the first six months of opening, the experience continually attracted crowds and long lines of Harry Potter™ fans eager to participate, resulting in a six-month extension so more fans could enjoy more magic. When clients like LEGO look for partners to explore new technological territories with, they turn to PRPL. Because we understand that the only way to build a memorable, lasting, and high-performing experience is to create something truly unique—and that's what our team does best.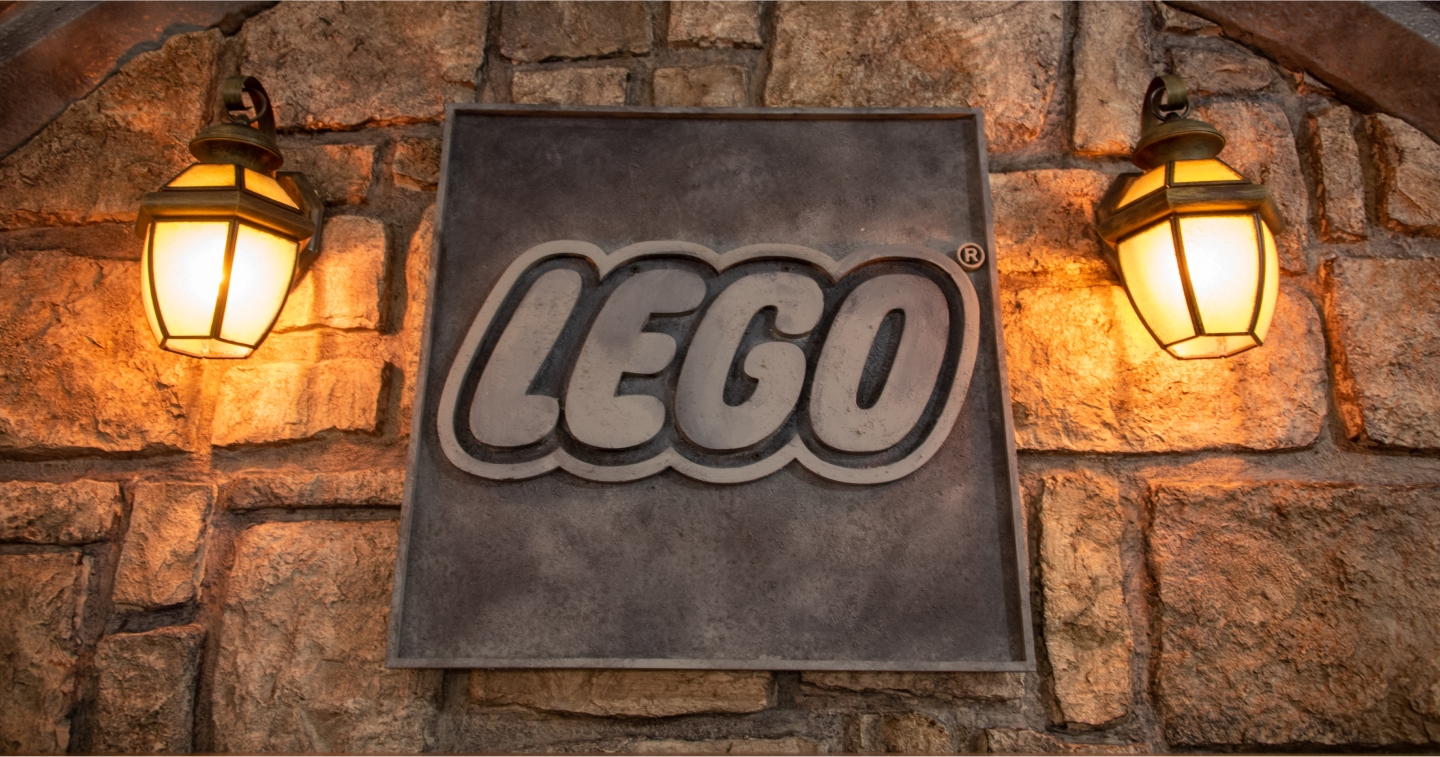 We use cookies to improve your browsing experience. You consent to our cookies policy if you continue to use this website.