Project Overview
After a rebrand that migrated their entire hospital system under one entity, AdventHealth needed to convert their existing patient portal across the web, iOS, and Android to Epic, the largest* provider of Electronic Health Records (EHR) in the U.S.
Work
0
New patient portal features
0
Integration of 3 different EHR systems into 1
0
Project man-hours managed
EHR Conversion—Simplified
With increased interoperability that would allow patients access throughout the network, the AdventHealth team needed an advanced software integration, new mobile app development, and seamless program management. Our team got to work building a system to connect to Epic alongside the existing EHR systems of NextGen, Cerner, and Athena. However, converting the technology to a new EHR solution across its national healthcare network included the data within its existing patient portal, which had been custom-built by AdventHealth and wired to connect the patient records from their existing systems. To better simplify the conversion process, our developers rewired the entire portal across the web, iOS app, and Android app to run on this additional EHR software for a multi-year transition strategy, while still allowing patients to access their healthcare data from multiple source systems during the transition.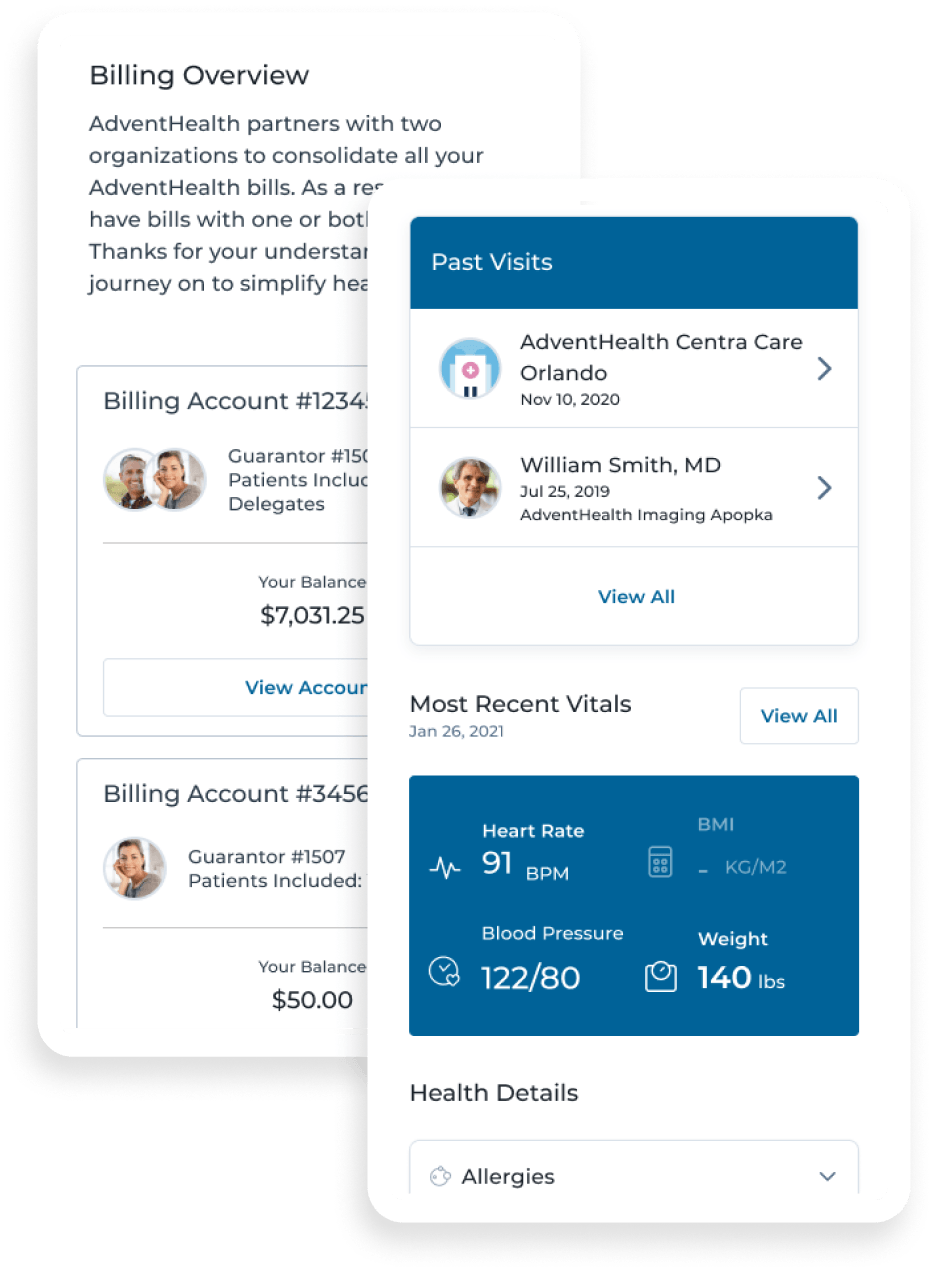 Key project efforts included:
OKTA Identity/SSO Account Federation with SAML interoperability

Robust ESB Architecture (JAVA Springboot)

ReactJS Front-End + native iOS & Android development

Enterprise-level program management with multiple concurrent work streams and third-party vendors/technology support teams

Complex record deduplication between EHRs 

Online Bill Pay with complex bill groupings in various networks, payment plans, paperless enrollment, and patient financing options
Dedicated Staffing and Management
AdventHealth operates in nine states with platforms serving over 250,000 online patients. As our largest project to date, this EHR implementation required a streamlined resourcing and project plan that would span roughly a year, so we helped recruit, staff, and onboard a core team of 25 highly skilled team members. On top of mobilizing a team of engineers, QA leads, and designers, our project management oversaw 20,000 man hours, including daily coordination of major stakeholders from AdventHealth across 20 different business units and six product owners with independent work streams.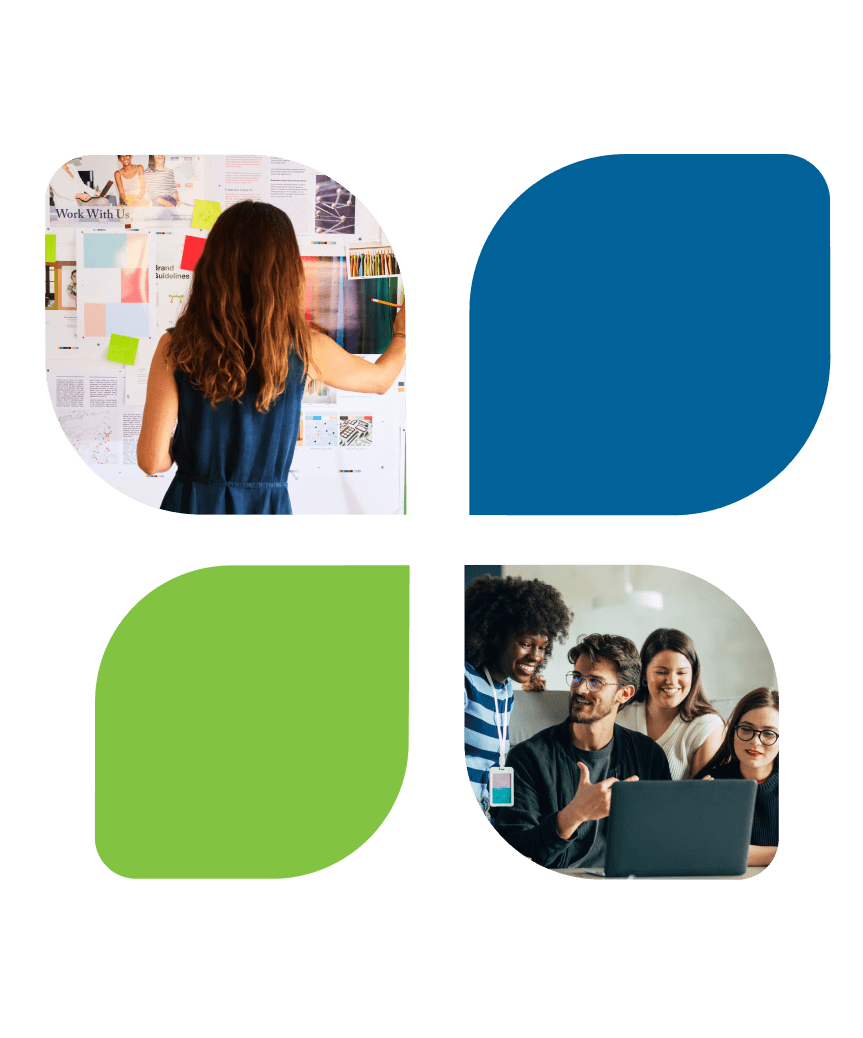 Improved Interoperability
Because not all markets were set to turn over simultaneously, our interoperability efforts started with backward compatibility to ensure simultaneous operation of the major EHR systems within the patient portal, while the different regions transitioned to Epic. This meant de-duplicating records between EHRs when presenting the data to the end-user, while enabling existing features with the addition of Epic data. Timing and logic decisions were critical in patient scheduling features with designated overlap windows of system cut-over across each service region. As patients scheduled appointments that added appointments to Athena or Cerner, an overlap strategy was developed to ensure schedules were also accounted for in Epic, as the system approached the cut-over dates.
Powerful Portal Access
After transitioning all systems over to Epic EHR, our developers were ready to help expand and enhance AdventHealth's patient portal. From new features and functionality to an intuitive interface, we delivered a seamless platform that offered patients the experience they were used to with new options they didn't expect for a more engaging and empowering user experience.
Share My Record

Identity access for Proxy users

"Feature Flexing" logic

Visit summaries & radiology reports

Consolidated health records

Track My Health
The Future of Patient Care
With a rolling launch for the different AdventHealth divisions to take place over
two years, we aligned our timeline with our ability to meet the various deadlines. In doing so, we helped AdventHealth exceed patient expectations by offering them more convenience and a new level of control of their healthcare experience. And as they continue to improve outcomes and lives with innovative patient care, we believe this is just the beginning.
*Hospitals that use its software held medical records of 78% of patients in the US and over 3% of patients worldwide in 2022
We use cookies to improve your browsing experience. You consent to our cookies policy if you continue to use this website.